Tehnikum ltd brings together a team of engineers with decades of experience in the field of water purification and filtration, as well as sludge dehydration, which has over 100 realized projects and plants in this field.
We provide complete technological solutions from testing and finding technological solutions, design, production, installation of plants and treatment devices:
Technological industrial wastewater
Drinking water and food industry - Filtration and "preparation" of water
Sludge dehydration obtained in the process of water purification - sedimentary, flotation, biological sludge
Municipal (sanitary and fecal) wastewater
Atmospheric wastewater
We offer our clients technological solutions, design, manufacture and installation of equipment, proof of parameters for discharge, "turnkey" system.
WASTEWATER TREATMENT
Production of equipment, installation, commissioning, proving parameters for discharge into the recipient (ELV)
Preparation of project documentation, obtaining water permit and water acts, conducting the procedure from location conditions to water permit "project management"
Wastewater testing in the laboratory and at the "pilot" plant on the site, finding and determining the technological solution for which we guarantee treatment to the required limit values (ELV)
Supervision, monitoring and maintenance of wastewater treatment systems
Testing and determination of technology at the mobile plant - pilot plant
Our plants, systems and devices are designed and manufactured to meet all investor requirements, implementing legal standards, technological achievments and economic justification.
We manufacture plants for WASTEWATER TREATMENT FROM VARIOUS INDUSTRIAL PROCESSES, such as:
Galvanization (from the process of galvanizing, chromium plating, hot-dip galvanizing, passivation, anodic oxidation, electrochemical preparations, etc.)
Painting
Slaughterhouses and meat processing
Recycling industries (PET, PE foils, battery recycling, and dr.)
Laundry
Textile industries
Paper industries
Fruit and vegetable processing
Chemical industries
Leather industries
Pharmaceutical industries
Construction industries: production of construction materials, construction sites, tunnel excavations, etc.
Mines
Biogas production, etc.
TREATMENT OF WASTEWATER FROM THE FOOD INDUSTRY
EQUIPMENT AND PLANTS FOR WASTEWATER TREATMENT FROM THE DAIRY INDUSTRY, MEDIUM AND SMALL DAIRIES, PRODUCTION OF CHEESE AND DAIRY PRODUCTS
TREATMENT OF WASTEWATER FROM SLAUGHTERHOUSES AND MEAT PROCESSING
TREATMENT OF WASTEWATER FROM WINERIES
TREATMENT OF WASTEWATER FROM JUICE FILLING PLANTS
EQUIPMENT AND PLANTS FOR TREATMENT OF WASTEWATER FROM FRUIT AND VEGETABLES PROCCESSING
WASTEWATER TREATMENT AND EQUIPMENT IN PRODUCTION AND RECYCLING INDUSTRIES
PLANTS AND EQUIPMENT FOR WASTEWATER TREATMENT FROM PRODUCTION AND RECYCLING OF BATTERIES
PLANTS AND EQUIPMENT FOR WASTEWATER TREATMENT IN THE INDUSTRY OF RECYCLING
WASTE TREATMENTS (all types of plastics, foils)
EQUIPMENT FOR TREATMENT OF WASTEWATER FROM SCRUBERS FOR AIR PURIFICATION IN NON-HAZARDOUS AND HAZARDOUS WASTE INCINERATORS
EQUIPMENT AND PLANTS FOR WASTEWATER TREATMENT FROM GALVANIZATION PROCESSES
(such as galvanizing, chromium plating, hot-dip galvanizing, passivation, anodic oxidation - so-called anodizing, electrochemical preparations, etc.).
Since the galvanic industry is known for generating large amounts of wastewater, we pay special attention to reducing their quantities. We have specially developed solutions for reducing the amount of wastewater and for their recirculation and reuse. We have developed special software for the regulation of PH values depending on which metals need to be "precipitated".
EQUIPMENT AND PLANTS FOR TREATMENT OF WASTEWATER FROM THE PRODUCTION OF CONSTRUCTION MATERIALS, AS WELL AS ON CONSTRUCTION SITES DURING THE CONSTRUCTION OF ROADS, BRIDGES, DURING TUNNEL EXCAVATIONS, ETC.
The characteristic of these wastewaters is that they are highly colored, have a high content of suspended solids, and in the production of facades, wall paints, etc., they have high biological loads (BPK 5 and HPK). Due to all the loads, although such productions generate relatively small amounts of wastewater, large amounts of sludge are obtained in mechanical pretreatment as well as sedimentary sludge, the disposal of which generates high costs. For this reason, we have developed special systems for filtering sludge and reducing its volume, which makes additional savings.
We have developed technological solutions and equipment for wastewater treatment that occur during the construction of roads, bridges, tunnel excavations, etc.
The advantages of our systems are: they are extremely efficient with the use of relatively little equipment, they are easily portable and can be used in several locations, the possibility of renting equipment because you only need it for one project.
EQUIPMENT FOR WASTEWATER TREATMENT FROM LAUNDRIES
PLANTS AND EQUIPMENT FOR WASTEWATER TREATMENT FROM THE TEXTILE INDUSTRY - PAINTS, WASHING MACHINES, STONING
WASTEWATER TREATMENT PLANTS IN THE PAPER INDUSTRY
WASTEWATER TREATMENT PLANTS AND EQUIPMENT FROM THE CHEMICAL INDUSTRY WASTEWATER TREATMENT
PLANT AND EQUIPMENT FROM THE LEATHER INDUSTRY WASTEWASTER TREATMENT
PLANTS AND EQUIPMENT FOR WASTEWATER TREATMENT FROM THE PHARMACEUTICAL INDUSTRY
WASTEWATER TREATMENT PLANTS FROM MINE, REMEDIATION, MINING, SEPARATION
Due to special requirements and characteristics for these needs, we have developed mobile plants for wastewater treatment.
OIL WASTEWATER TREATMENT PLANTS IN REFINERIES AND SIMILAR PRODUCTS
WASTEWATER TREATMENT SYSTEMS FROM BIOGAS PRODUCTION PLANTS, ETC.
(we have developed special technological solutions for sludge dehydration)
SYSTEMS AND DEVICES FOR MECHANICAL PRE-TREATMENT
Mechanical treatment in wastewater treatment technology includes equalization, separation of coarse material on grids and sieves, separation of inert, sediment and fittable particles, as well as separation of fats and oils.
Insoluble, larger and floating substances are removed from the wastewater with the help of gratings. The separation of these substances is done in order to protect the devices and pipelines from damage and congestion and to facilitate the treatment of wastewater.
COARSE SCREEN with compactor (compaction and squeezing) that drains coarse material, and automatic rinsing system.
ROTO sieve - the separation of large particles that could interfere with the operation of equipment or cause interference in the process of wastewater treatment is performed in the roto sieve. The water enters the tank of the roto sieve, which rotates continuously and separates the solid particles from the liquid phase.
COMBINED DEVICE FOR MECHANICAL PRE-TREATMENT, used for complete mechanical treatment with the functions of grate, sand and grease (oils and floating materials). The wastewater that enters the device first encounters a fine grid, where bulky waste is separated. Bulky waste remains on the surface of the grate and through a spiral and through the transport zone, is transported to the zone of the press and the opening for waste disposal. Transport and pressing of waste is done in a spiral without shafts. Wastewater, after removing bulky waste on the spiral grid, reaches the sand pit, which, for greater efficiency, is aerated. At the bottom of the sand pit there is a spiral conveyor that collect deposited sand and transports it to the bin, where it is captured by another spiral conveyor, a sand extractor. The device is also equipped with a grease gun, whose function is mechanically to remove grease / oil from the surface of the liquid, thanks to the aeration effect.
EQUALIZATION POOLS
SYSTEMS FOR HOMOGENIZATION IN EQUALIZATION POOLS
GREASE AND OIL SEPARATORS
FLOATING PUMPS WITH FAT-COLLECTION
BELT GREASE COLLECTORS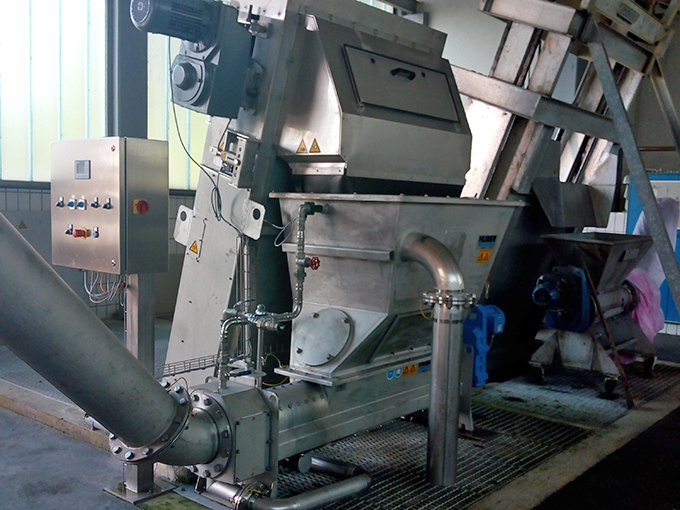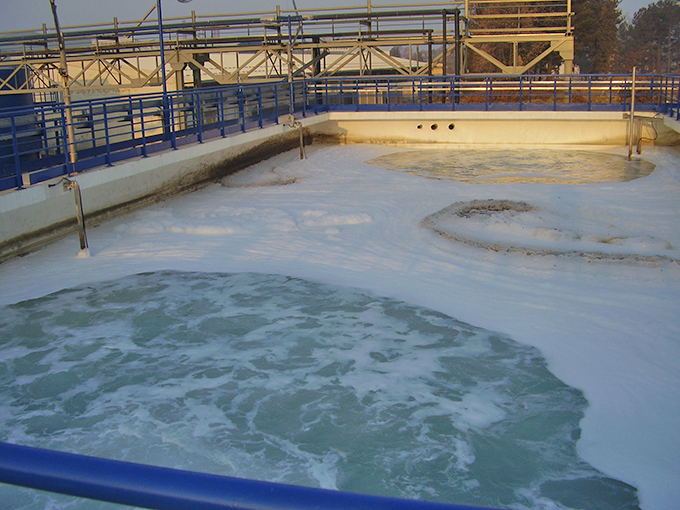 PLANTS AND DEVICES FOR CHEMICAL TREATMENT OF WASTEWATER
(coagulation, neutralization, flocculation, reduction of chromium, oxidation of cyanide, etc.)
Chemical treatment involves the addition of chemicals to wastewater to convert dissolved, suspended components into insoluble forms, oxidation and reduction reactions, adjusting the pH of wastewater.

We design, construct and manufacture:
Coagulation reactors
Flocculators type: mixer reactors, tubular, etc.
Polyelectrolyte preparation and dosing devices
Reactor for preparation and dosing of Ca (OH) 2 ("lime")
Reactors are equipped with necessary equipment: mixers, measuring and regulating equipment (pH probes, Rx probes, transmitters, control cabinets)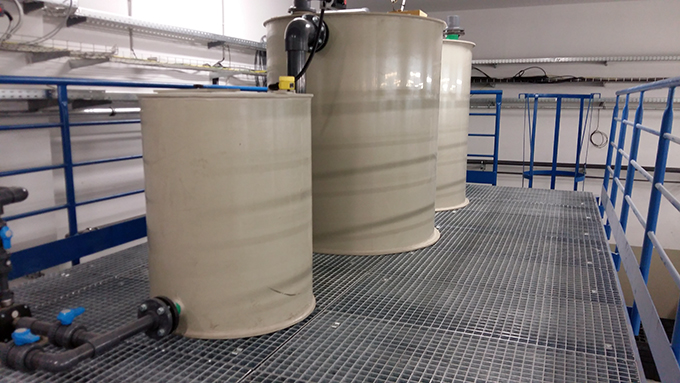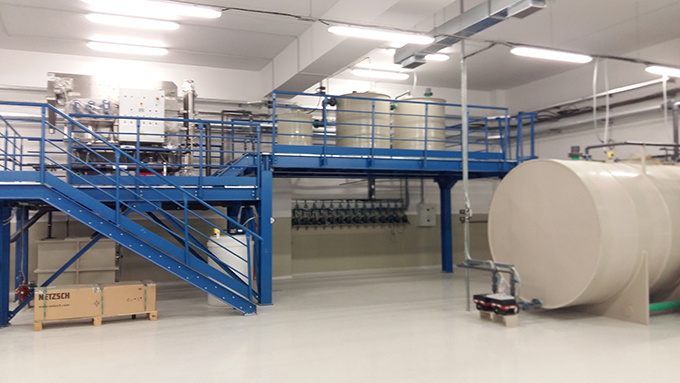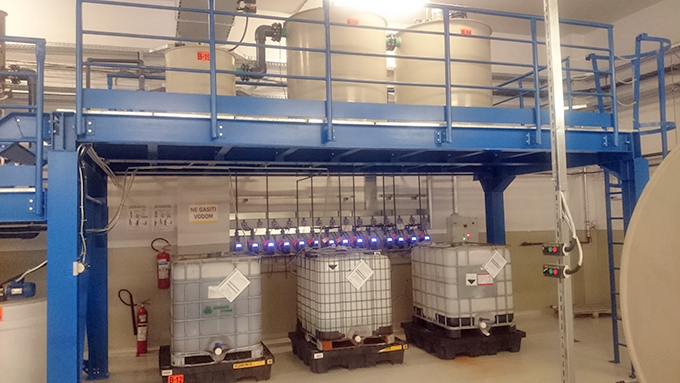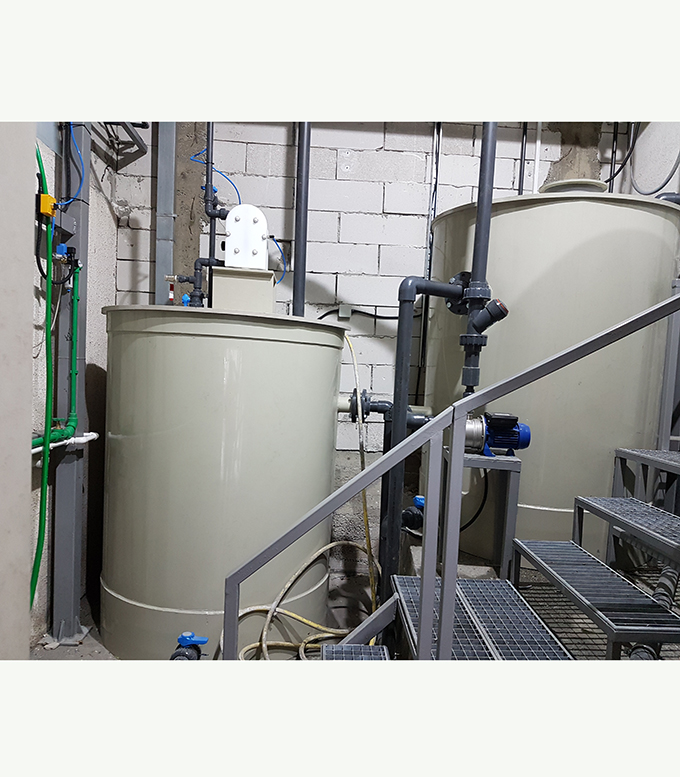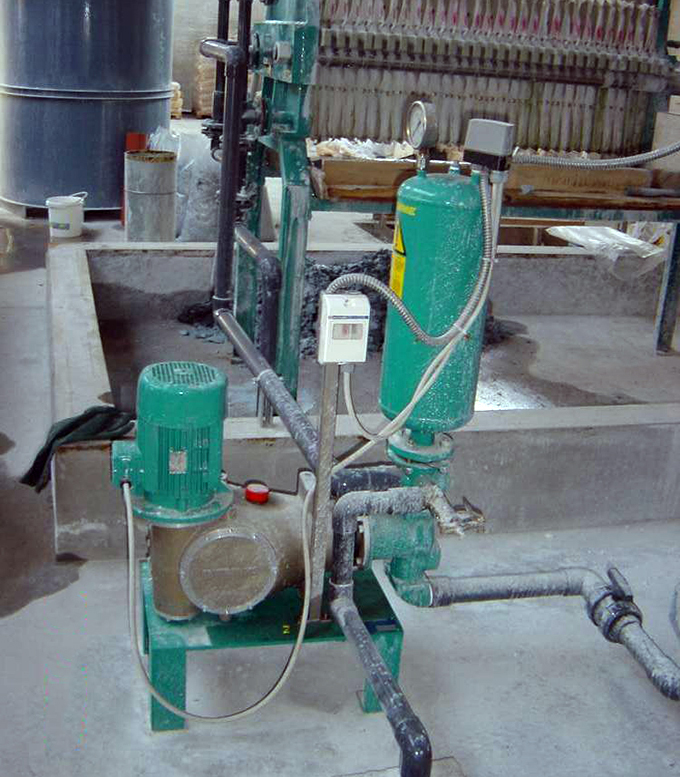 CHEMICAL DOSING SYSTEMS
We produce fully automatic chemical dosing systems: coagulants, pH correction, flocculants, etc.…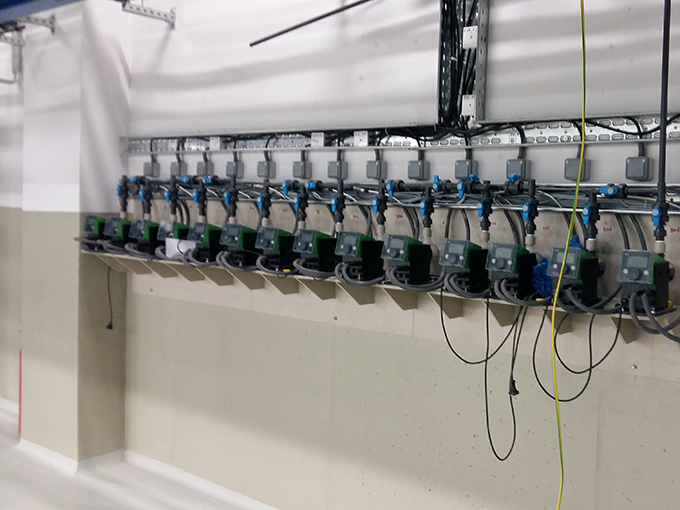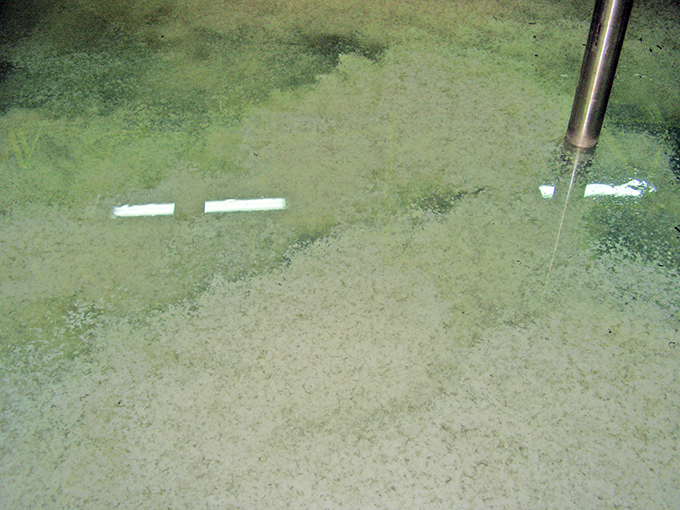 DAF DEVICE
The DAF (Dissolved Air Flotation) device is used to separate dispersed and suspended particles. It is based on making a supersaturated solution of air in the wastewater, and then introducing it into the flotation pool.
The air disperses from the bottom of the pool and on its way to the top "collect" the particles, and by the thrust force it carries them to the surface.
Dissolution of air can be achieved in the inlet water stream itself, in the part of the inlet stream or in the recirculation flow of purified water.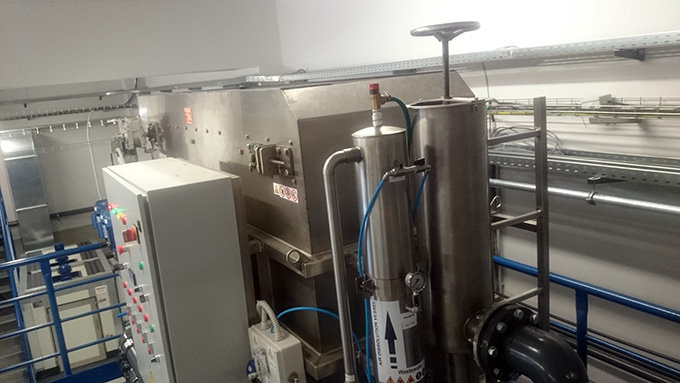 Flotation is a process of mechanical separation based on making a supersaturated solution of air in wastewater. Micro bubbles come into contact and bind with suspended matter and allow them to reach the surface and float. The air disperses from the bottom of the pool and on its way to the top "buys" particles, and the force of the thrust carries them to the surface.
The coagulant neutralizes the electrostatic load of colloidal particles, and enables their agglomeration into flocs. The polyelectrolyte binds the neutralized particles into even larger flocs.
The tubular saturator has a unique construction, and enables air bubbles measuring 10-70 micrometers, which gives exceptional efficiency.

AREAS OF APPLICATION AND MAIN APPLICATIONS
Dairy industry, ice cream production, juice production, alcohol production, breweries, meat and fish processing, fruit and vegetable processing, drinking water, etc.
Plastic recycling, chemical industry, oil and gas, textile industry, textile industry, leather industry, laundries, packaging washing, etc.
Advantages of our DAF Systems:
- Very high degree of reduction of polluting parameters
| | |
| --- | --- |
| Suspended substances | Reduction rate from 90-99% |
| Oils and fats | Reduction rate from 90-99% |
| BPK5 | Reduction rate from 70-80% |
| HPK | Reduction rate from 70-80% |
- Comprehensive and efficient solution that provides high stability and efficiency of dirt removal. Reliable method for technological wastewater treatment
- Simple installations provide a compact set of equipment and take up very little space- Great savings because the design of the system and technological parameters provide low consumption of energy, air and chemicals.
- Very stable operation of the coagulation, neutralization and flocculation systems
- Low degree of turbulence, no retraction of floating sediments.
- We have a developed package of digital services that allows monitoring and optimization of DAF system operation remotely, and remote-control systems.

Instead of classic lamellas, we use special "U" profiles that allow:
Separate wastewater and clean water flows
Even distribution of wastewater flows and loads in sections, reducing turbulence
No flow to the fleet
Flow guides allows lower polymer consumption
The DAF device is made of stainless steel.
We can deliver complete systems or repair and upgrade existing DAF devices.
SEDIMENTATION AND SEPARATION
We design and manufacture all types of precipitators, separators, thickeners.

Types of precipitators:
CONICAL STATIC SEDIMENTATION TANKS provide laminar water entry into the conical sedimentation tank, at the bottom of the sedimentation tank there is a cone in which sludge is collected and periodically drained from the device.
Sedimentation tanks are made of stainless steel, HDPP, HDPE, carbon steel with anti-corrosion protection.
LAMELAR SEDIMENTATION TANKS (TPS SEPARATORS) are sedimentation tanks where high deposition efficiency is achieved thanks to lamellas - plates that are installed at a certain angle at a certain distance, which achieves lamellar flow and a larger deposition area, and thus less retention time of wastewater in the device.

Depending on the required flow and type of wastewater, the surface and material of the lamellae may be different.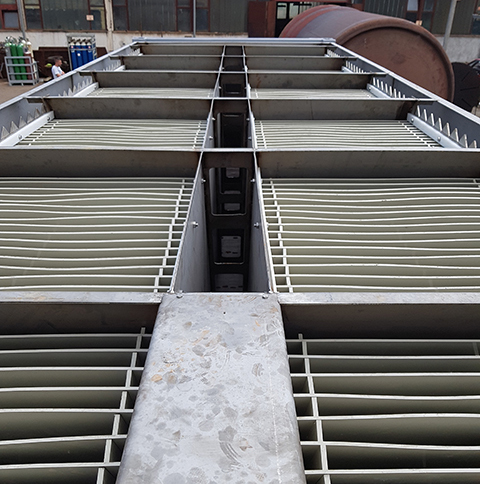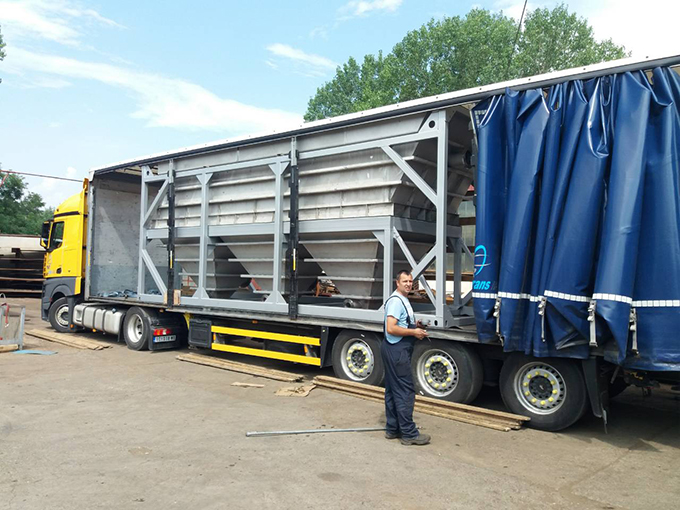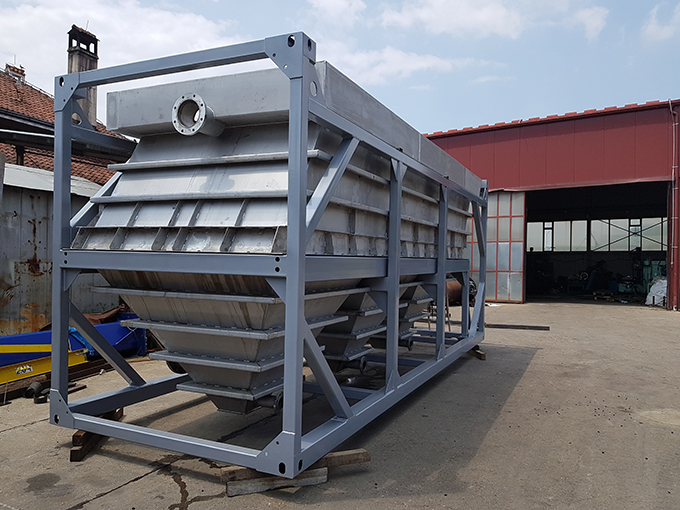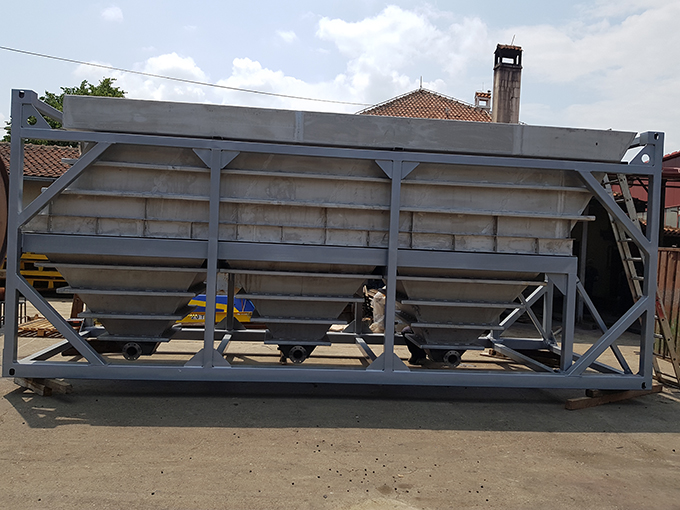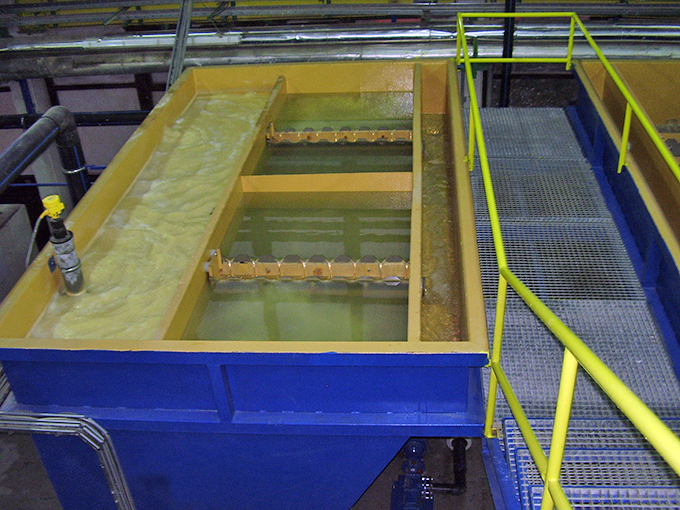 For those reasons, the Lamellar sedimentation tank has a much smaller volume for the same capacity compared to the classic Static sedimentation tank.
The materials from which we make sedimentation tanks can be stainless steel, carbon steel with anti-corrosion protection, HDPP (high density polypropylene), concrete, etc.
HOPPER BOTTOM TANK consist of SPECIAL PACKAGES OF WORKING ELEMENTS with appropriate flow distances between and around the elements, located inside a stainless steel or carbon tank, with a conical bottom. Each of the elements of the set has the shape of a triangle with a collector - a collector of pure liquid in the upper part. The inlet fluid comes from both sides of the triangular channel.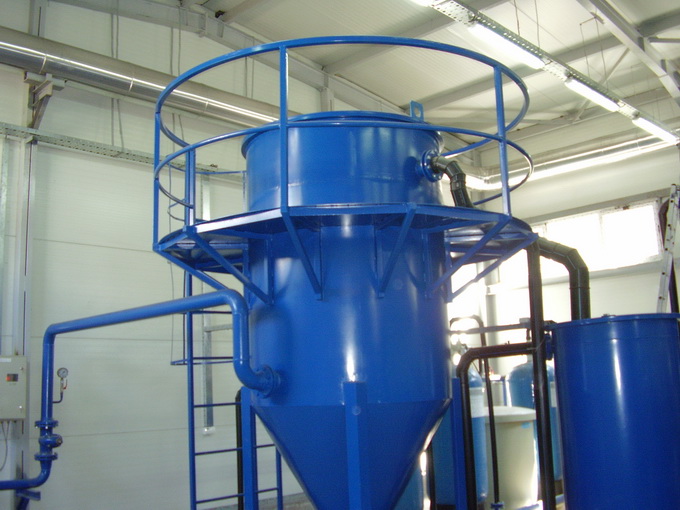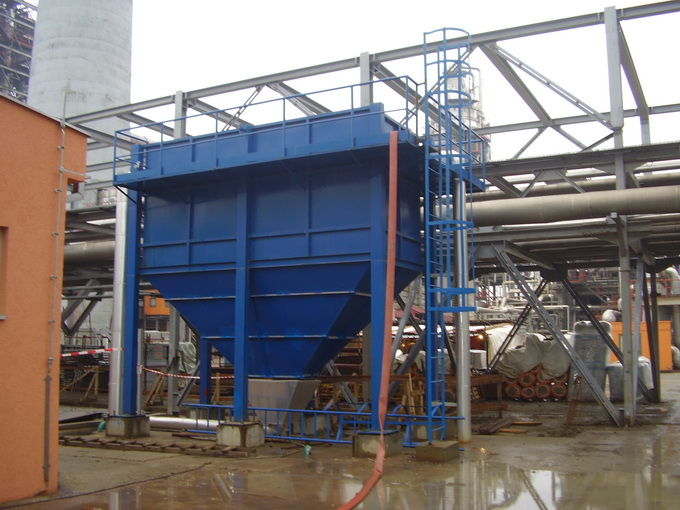 This type of sedimentation tank effectively combines the separation of solid materials from liquids with the coarse separation of fats and oils from water, while in the conical bottom of the sedimentation tank the separated sludge is compacted. All three processes are accelerated by fine vibrations originating from vibrating motors attached to the conical bottom.
These sedimentation tanks can be used in a wide range of process industriy and utilities, in the preparation of clean process water in various industries, preparation of drinking water, various recirculations and reuse of manufactured fluids, industrial and municipal wastewater treatment processes, and in the revitalization of useful products and processing of intermediate products in various production processes.

Due to the special construction and the principle of operation, these sedimentation tanks can reach a capacity of 400 m3 / h per device - unit.
The water retention time in the sedimentation tank with package inserts is 5-15 minutes.
For example:
For the same deposition effect, the LAMELAR SEDIMENTATION TANK has a 10 times smaller volume compared to the SEDIMENTATION TANK. It has a smaller volume 10 times.
HOPPER BOTTOM TANK in relation to the STATIC SEDIMENTATION TANK has a smaller volume up to 20 times, and in relation to the LAMELAR SEDIMENTATION TANK up to 4 times.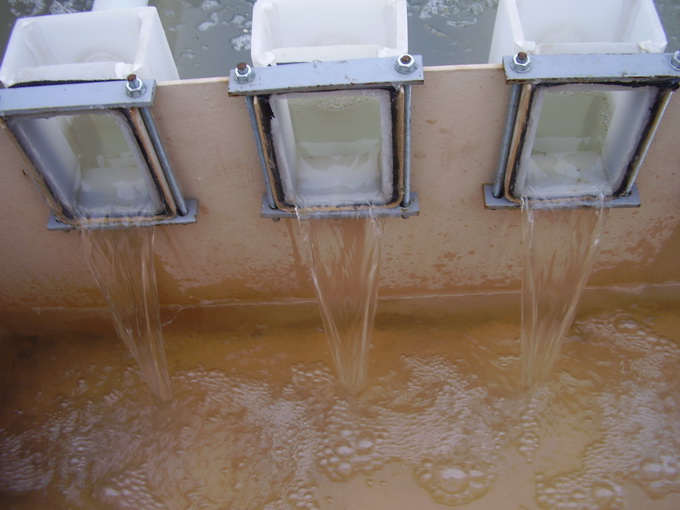 ---
BIOLOGICAL WASTEWATER TREATMENT (FLOW SYSTEM, SBR, SBBR, MBBR, MBR)
Biological wastewater treatment is based on the removal of dissolved organic matter and non-sedimentary colloidal particles by the action of microorganisms found in activated sludge. Classical biological treatment of wastewater is based on primary sedimentation, removal of pollution by microorganisms, secondary sedimentation of activated sludge.
The SBR (Sequential Batch Reactor) operates in batch mode with aeration and sludge deposition in the same reactor. The process is based on reactor filling, reaction, decantation and standstill. The main advantages of SBR are efficiency at lower flows, and at very high loads, flexible process management, easy installation, less need for space and very good sludge quality.
SBBR (Sequencing Batch Biofilm Reactor) is an improved design of the SBR reactor, which is based on the existence of a biofilm carrier, which increases the concentration of biomass presence. The advantages of SBBR are the same as with SBR, except that the efficiency of MBBR devices is higher due to the presence of biofilms.
MBBR (Moving Bed Biofilm Reactor) technology is based on specially designed plastic biofilm carriers that are suspended and continuously moving inside the reactor of a certain volume in which aeration is performed. The main advantages of the MBBR process are a longer lifespan of biomass compared to conventional activated sludge treatments and more stable wastewater treatment process.
The advantages of MBBR technology:
no activated sludge
no return of activated sludge
significantly reduces the required pool area
possible easy upgrade of existing conventional biological devices as well as increasing of their existing capacity
high reduction rate HPK / BOD5 / NH3-N
significant reduction of sludge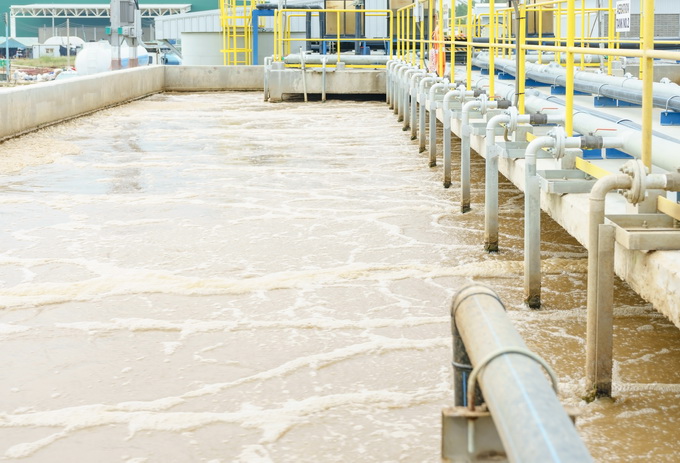 MBR (Membrane bioreactor) technology is based on the removal of pollution by a combination of microorganisms and microfiltration, which eliminates the need for the existence of a secondary sedimentation tank. In addition, the MBR forms a very efficient removal of organic pollution, which is accompanied by a constant quality of outcoming wastewater or a unique quality of wastewater in relation to larger fluctuations in the quality of incoming water.
The advantages of MBR systems:
Our MBR systems meet very strict requirements for achieving the quality of purified water that can be reused by:
World Health Organization, EU Directive on bathing water, State of California-Tittle 22
It has one of the most stringent and demanding certificates in the world for reuse of purified water:

< 0,2 NTU 5% 24 hours
< 0,5 NTU always
Biological purifiers can be placed in the tanks made of concrete, steel, or can be a container type.
Biological wastewater treatment plants of container type
MBR module
Aeration systems: diffusers, low-pressure compressors - "blowers", pipes and pipe fittings, media carriers (bacteria) for MBBR systems.
Comparative overview of parameters obtained during wastewater treatment with different types of biological reactors.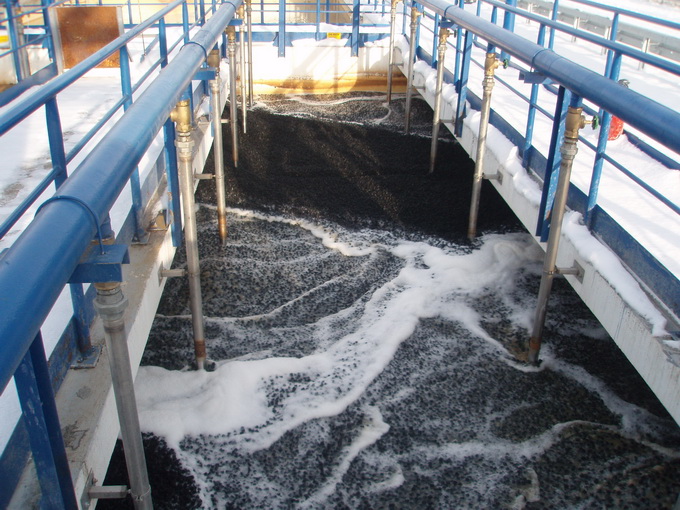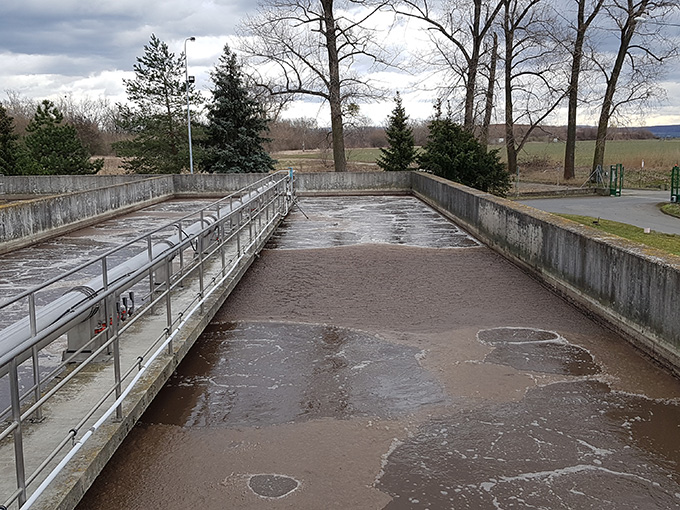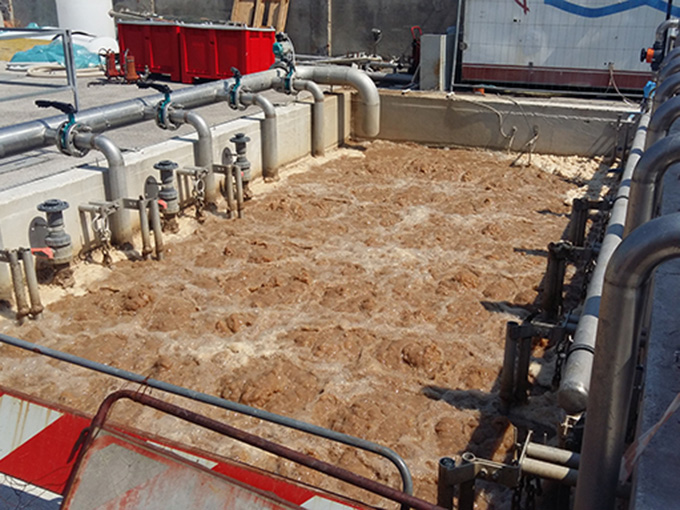 ---
AUTOMATIC CONTROL SYSTEMS AND MEASUREMENT REGULATION EQUIPMENT
We make complete systems of automatic control of plants: regulation and management of technological parameters that are necessary for the correct operation of the system. Programs that manage systems via PLC in accordance with the prescribed technology and optimize the work of all consumers.
Delivery of complete cabinets, development of application software, connection, installation of probe measuring and regulating equipment (pH, Rx, O2, etc.), flow meters, levels, etc.
Commissioning and training of employees.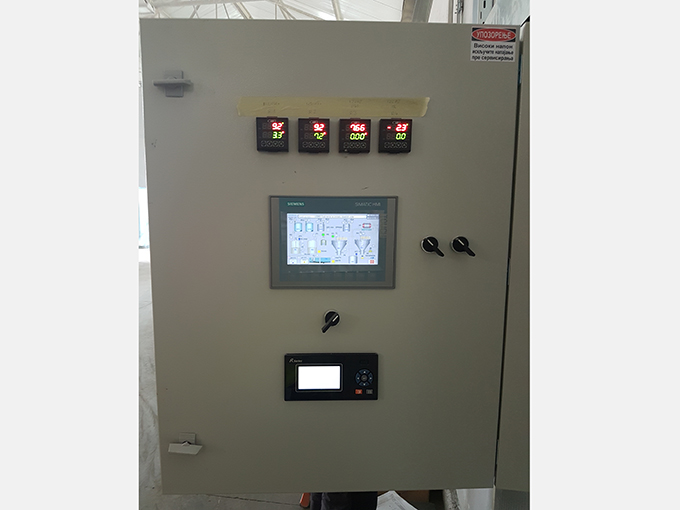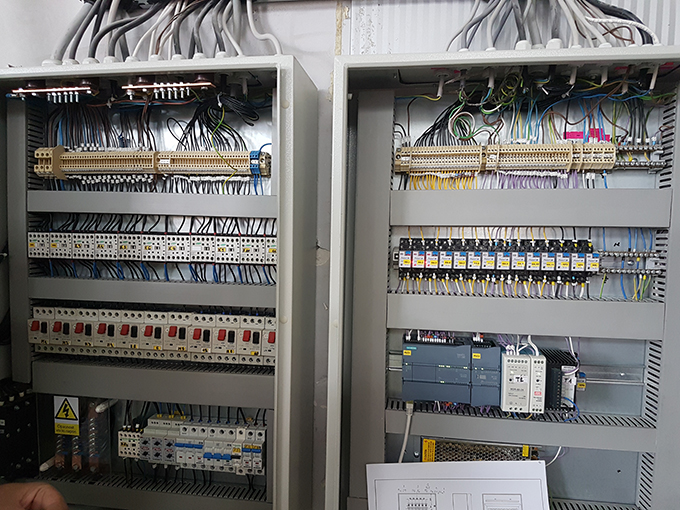 ---
DEHYDRATION OF WASTE SLUDGE PRODUCED IN THE PROCESS OF INDUSTRIAL AND MUNICIPAL WASTEWATER
Development of a system for treatment of sludge generated in the process of sedimentation, flotation, and biological treatment as products in various industrial processes.
Devices and equipment used for sludge dehydration: filter presses, decanters, dick presses, thickeners of various capacities, devices with dehydration bags, etc.
FILTER PRESSES are machines for separating solid particles and liquids from a suspension that is transported by a high-pressure pump.
DISK PRESSES can dehydrate waste sludge directly from the oxidation chamber (there is no need for gravity thickening tanks). It is suitable for 24-hour work, with occasional control.
DEHYDRATION DEVICE WITH FILTER BAGS for sludge dehydration consists of several bags whose size and characteristics are selected based on the composition and amount of sludge. The sludge enters the inside of the bag, where solid particles remain on the fabric, while water passes through the fabric.
CENTRIFUGAL SEPRATORS remove the solid phase from the liquid by the action of internal centrifugal force which is the result of the speed of rotation of the vessel of large diameter.
ATMOSPHERIC WASTEWATER TREATMENT
Atmospheric and process water purifiers
Oil and grease separators without coalescent filter for separating sand, atmospheric and process water
Oil and grease separators, with and without coalescent filter for parking lots, car parks, plateaus, , car mechanic services
Cholescent separator is a device that efficiently separates oil, petroleum products and oil from water. The working principle is based on the appearance of coalescence (coalescence) of its droplets. The construction of the device consists of packages of corrugated polypropylene plates placed in a horizontal position inside the steel tank.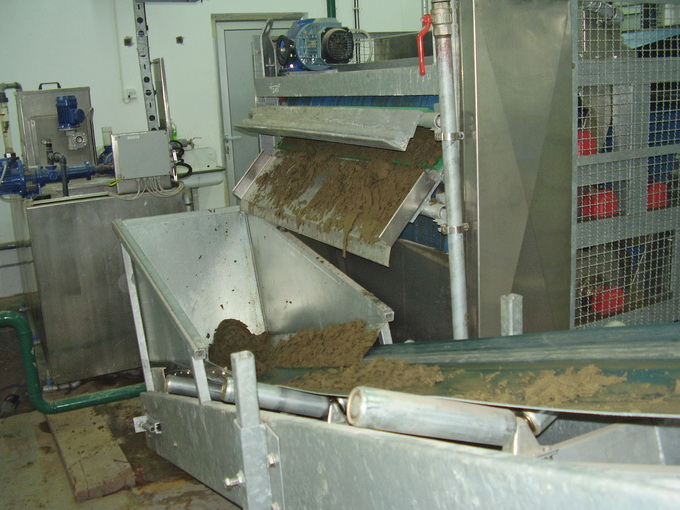 Reference list Wastewater treatment, see...
MOBILE WASTEWATER TREATMENT PLANTS
There are many situations in which a quick and easy solution is needed to temporarily solve the problem of wastewater treatment.
In addition to the construction of classic plants, Tehnikum Tehnologije also offers mobile devices and equipment for wastewater treatment and dewatering (filtration) of sludge ...

Read full text...