Filter plates at Mebrane filter press are equipped with membranes that enable additional "squeezing" -dehydration of the filter cake.
Increasing the filling pressure ensures precompression and drainage of the filter cake in the chamber. When the filling pressure reaches a predetermined value (approximately 6-8 bar), the filter cake is additionally exposed to the membrane pressure, and additionally "squeezed".
Elastic membranes, which can be made of polypropylene (PP) and synthetic rubber (NBR, EPDM), use compressed air to press the filter cake over the entire surface of the chambers. Additional compression thus expels free water through the filter cloth.
ADVANTAGES OF MEMBRANE FILTER PRESSES: •
More economical filtration due to high degree of drainage and shorter cycle time
Maximum flexibility for expansion and automation possibilities
Extended pump life in the case of abrasive media, due to low supply pressure

CASE STUDY:
Delivery of membrane filter press with the dimensions of plates 1000x 1000 mm, 36 plates, volume 770 liters, for filtering the solution of lead "paste" in the process of battery recycling. Investor "TAB MAK".
The press is equipped with: membrane plates with EPDM membrane, system for automatic opening of plates, "Squezing" system for additional dehydration of filter cakes, "drip tray" system. Degree of dehydration of filter cakes: 80-90% dry matter..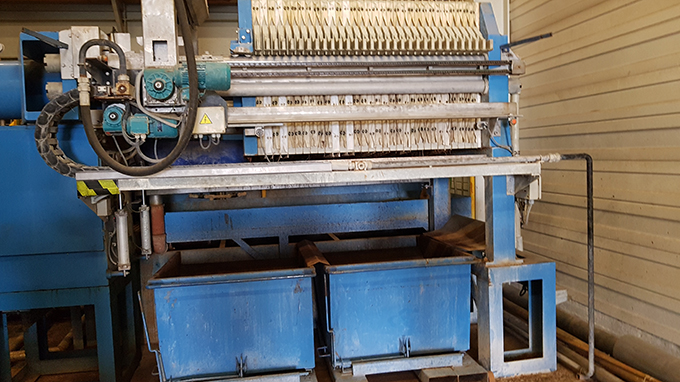 « Back