VENTILATION AND PURIFICATION OF POLLUTED AIR IN INDUSTRY
We design, manufacture, install and put into operation devices and plants for purification of waste gases (waste air) from various technological processes such as:
Galvanization, hot-dip galvanizing, dyeing
Welding
Metal processing (cutting, grinding, etc.)
Recycling industry - sorting lines, plastic processing by extrusion, hot wash vapors, grinding and tearing - mills, etc.
Incinerators of all types of waste
Foundries
Car paint shops
Bakeries
Coffee roasters
Dryers for meat and other food industries
Production of polyester and other resins
Production for formulation of paints and varnishes
Production for formulation of oils and lubricants
Production for plastic processing, etc.
DEVICES AND SYSTEMS FOR WASTE AIR PURIFICATION
Purification of air from particles and gases
CYCLON DEVICES - cyclones and multicyclones
Cyclones are devices that belong to the group of centrifugal separators of material particles from the air intake stream. They are usually used in the process of purifying the air before other devices. For higher flows, cyclones are packed in batteries - multicyclones.
Bag filters are made of fibers of different composition (natural and synthetic fibers) with metal housings. Filters of different capacity are made depending on the flow of waste air.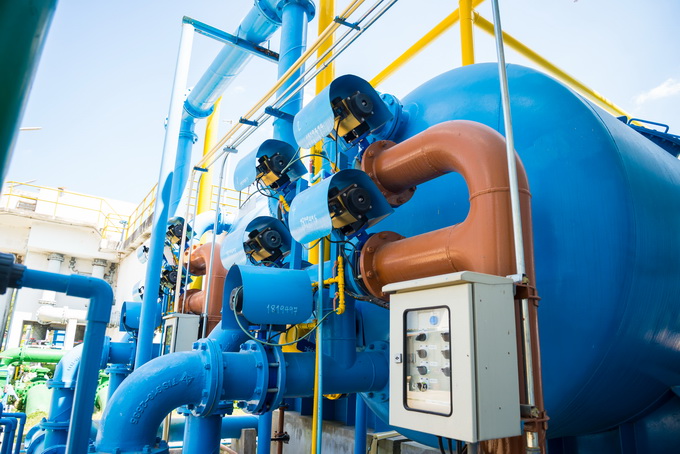 They are intended for removing particles from the waste air stream of cement plants, sugar factories, wood industry ...
SCRUBERS (wet extractors): venturi scrubbers, scrubbers with filling, with neutralization.
Scrubbers are devices used in the treatment of air that is polluted with dust particles and harmful gases. They belong to the group of "wet air purifiers".
The principle of removing pollutants is based on the contact of the pollutant with a precisely defined tool that will react with the pollutant and reward the compound soluble in water. Contaminated air contact solutions can be water (for dust particles) or reagent solutions that act specifically on certain compounds present as pollutants in the air.
The degree of purification is improved by extending the retention time in the scrubber or by increasing the surface area of the solution contained in the scrubber by means of spray nozzles, filling placement (bodies of different shapes and dimensions) or aspirators. Scrubbers can also be used as apparatus for recirculating heat from hot gases by condensing gases. In that case, they are called "condensing purifiers".
They are used in almost all industrial gas purification systems (foundries, factories of basic and processing chemical industry, pharmaceutical industry, paint and varnish industry, pesticide production, treatment of hazardous and non-hazardous waste by chemical and metallurgical processes, animal waste incinerators, cattle farms, laying hens, chickens….)
Skruberi se mogu koristiti i kao aparati za recirkulaciju toplote iz toplih gasova kondenzacijom gasova. U tom slučaju se nazivaju "kondenzacioni prečistači".
The advantages of using scrubbers are:
Relatively low cost, and the efficiency of particle removal is higher than dry cleaners
Special solutions allow the removal of particles with a diameter of 0.1 micrometer
They can be used as air purifiers in systems where it is necessary to lower the gas temperature before final purification
Suitable for the treatment of gases in flammable and explosive environments
Simultaneously with the treatment of solid phases, they can purify both gas and liquid (vapor) phases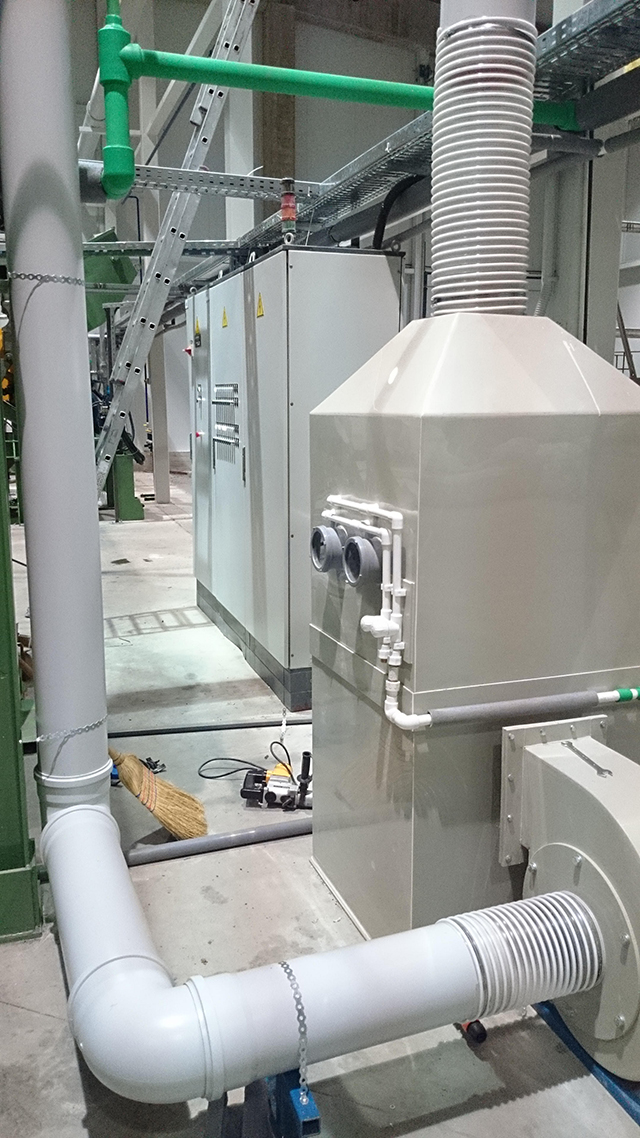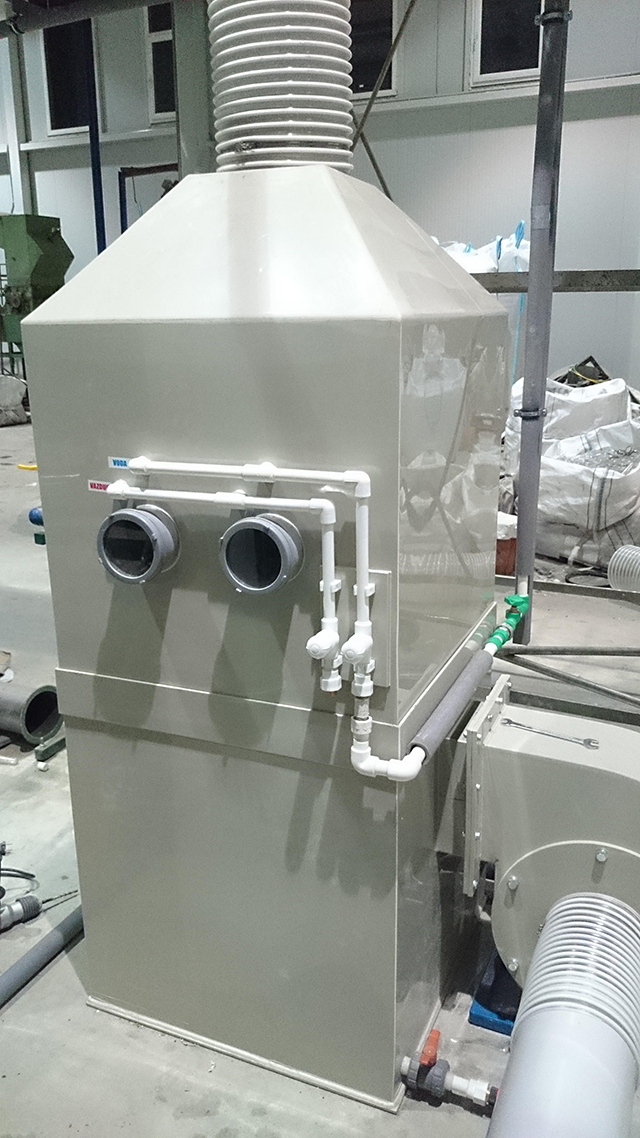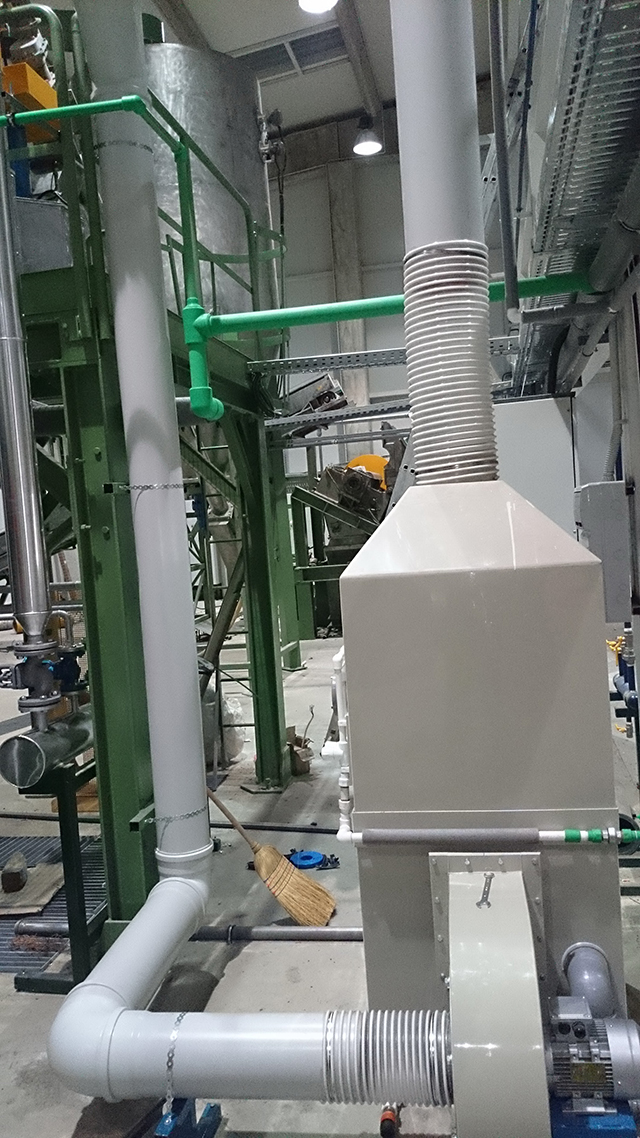 VENTURI SCRUBERS

SCRUBERS WITH COMBINED WATER AND AIR ABSORPTION - a special system enables the reduction of wastewater quantities

ACTIVATED CARBON FILTERS

Activated carbon filters purify the air from volatile organic, acid gases, organic vapors and solvents, according to the principle of adsorption on activated carbon.

DIGESTORS WITH WASTE AIR PURIFICATION SYSTEM - Digestors are working chambers that ensure that waste air (vapors, gases, dust, etc.) is removed from the work area. The purification system is a compact scrubber with neutralization. Advantages: efficient purification, small dimensions, suitable for laboratories, goldsmiths, etc.
Reference list of installed equipment for waste air treatment, see...
OTHER
production of technical rubber products
servicing and maintenance of plants for surface protection, water purification and polluted air purification
activated carbon
servicing of pumps
servicing of filter presses, clothes
servicing and maintenance